The Lichtenstein Museum. 36 x 72.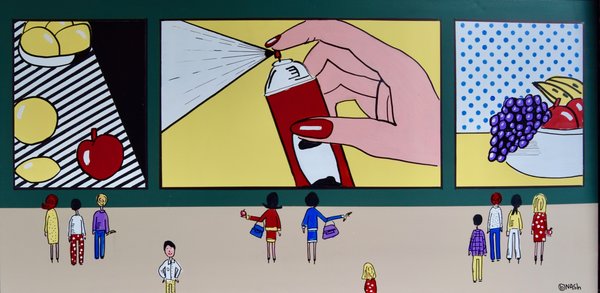 The Lichtenstein Museum. 36 x 72.
Roy Lichtenstein was born in Manhattan to an upper-middle class family. He started as an abstract painter, but shifted to pop art after one of his young sons -- a Disney fan -- bet him that he couldn't paint anything as good as Mickey Mouse. His art was, thereafter, heavily influenced by comic books and the burgeoning industrial printing movement.
Although Lichtenstein was one of the leading pop artists, he considered his paintings to be a parody of the movement, so it was simultaneously part of it, and commenting on it.
One of his paintings, Woman with the Flowered Hat, a parody of a Picasso painting, sold for a record $56 million in 2013.
This original painting is:
• 36 x 72 on 1.5" gallery-wrapped canvas
• acrylic
• wired and ready to hang